ENTREVISTA A JESÚS CARRILLO, TÈCNIC DE L'SPORTING SANT JOAN
"La meva relació sentimental se basa en els resultats"
Jesús Carillo i Jover (Es Vivero, 1987) és un artista irreverent per definició –mai no s'ha definit com a músic; de fet, l'odia. És una persona com Diego Armando Maradona: no admet matisos, mai no és gris, sempre és blanc o negre. Tot o res. Amb més nits que la lluna i multitud de projectes a l'esquena, és una persona que no es rendeix, quan no donaries un duro per ell, el tipus s'aixeca i hi torna. Talment Sísif amb la seva roca gegant. Histriònic dins i fora de la pista, sincer i fidel amb els seus i desvergonyit quan toca amb els que no el respecten (sobretot àrbitres), no deixa indiferent a ningú: l'odies o l'estimes, sense matisos.
Ens hem acostat a ell per fer un cafè i parlar una mica de la temporada de l'Sporting Sant Joan CE (ep, no del Just Just Sant Joan, encara que també en parlam). Fa uns deu anys que és entrenador de la casa, encara que de forma intermitent arran de la seva vida intensa i caòtica.
Per entrar amb olivetes i, també, perquè se faci càrrec del tipus d'entrevista (parodiant al periodista estrella i més ben pagat del DM): Vox, PP i Cs sumaran majoria absoluta a les properes generals?
Uf, bona pregunta. Què he dir, el que crec o el que desig?
…el que vulguis, també pots dir les dues coses.
Esper que no, però lamentablement crec que sí. Fins i tot crec que no els farà falta, Vox, però m'agradaria: si han de governar que sigui amb ells.
Parla'm de la teva infància. Vares ser feliç?
Mmm… Sí, molt! Som pubil i la meva dona me diu que és impossible haver estat feliç essent-ho. A més, me vaig criar a Palma i no vaig viure les experiències de tirar macs i anar a fer trui per fora vila. He tengut una infància més de Master System i Mega Drive. He sabut comprar-me la felicitat i sí, he estat feliç.
Un llibre, una cançó i una pel·lícula.
Sense cap dubte te diré Vuélate la tapa de los sesos de Carlos Meneses Nebot. Uf, m'ho poses difícil amb la cançó, és la pregunta més difícil del món. Cada dia te'n contestaria una de diferent, però te'n dic una: Song to the siren d'en Tim Buckley, que de fet fou la cançó del dia de la meva boda. Quant al millor film, també és molt complicat, així i tot me quedaria amb Pulp Fiction, però la pel·lícula de la meva vida és Mary Poppins… estava castigat a veure-la cada dia. Possiblement l'he vista unes 800 o 900 vegades!
…ostres! Bé, ara defineix-te amb tres adjectius.
Exigent, inconformista i egocèntric.
Defineix l'afició del CE amb tres paraules.
No basten tres paraules. És la millor afició de futsal de Mallorca, fins i tot millor que la del Palma Futsal. No hi ha cap afició que tengui la que tenim nosaltres.
"This is Son Juny Arena", resa la pancarta del poliesportiu. Sense el caliu de l'afició, haguéssiu guanyat la lliga, l'any passat?
No és popular, però crec que sí, perquè teníem l'equip per fer-ho. Ara bé, hauria tengut el mateix sentit la lliga sense l'afició? No.
Heu creat un projecte ambiciós. Ha estat decisiu deixar de ser l'"Athletic de Bilbao", en el sentit de nodrir l'equip amb jugadors santjoaners, i passar a ser la "Real Societat", en el sentit d'obrir-se al mercat illenc de fitxatges? Sense els nou fitxatges, haguéssiu assolit els èxits que abans te comentava?
Sí, de fet, l'any anterior van fer subcampions, i si haguéssim començat la temporada amb mi, a la pretemporada, hauríem guanyat la lliga regular. No en tinc cap dubte. Vaig arribar quan faltaven dues setmanes per començar la lliga, estàvem diputant la copa, i vam perdre els tres punts a Alaró, el primer partit de lliga, que va ser el que no ens va permetre fer primers. I tots érem santjoaners, excepte en Valls. Pensa que no totes les generacions són iguals, ara no tenim una generació molt nodrida. Molta gent ha emigrat o s'ha apartat per altres motius (en Jordà per qüestió d'estudis, en Simó per qüestió de feina, en Turri Jr. per qüestió d'estudis també s'ha distanciat). Així doncs, hem perdut els puntals del projecte.
Com valores la figura d'en Tomeu Garí de Can Borràs?
En Garí president o jugador?
La faceta que vulguis.
És història viva del CE. Per jo és una icona, ha estat el jugador amb les millors qualitats tècniques que ha passat per Son Juny. I fora de la pista, la persona del club que més he estimat. Amb l'arrencada del nou projecte, i tenint en compte que no puc ser entrenador i alhora president, ell era el que reunia els requisits per ser-ho.
Quina ha estat l'aportació del "clan" manacorí?
Abans no teníem tots els partit guanyats abans de potejar la pista. Havíem de lluitar els punts durant els quaranta minuts. Ara, amb els manacorins, ja tenim els tres punts mig asseguts. Esportivament ens han situat damunt el mapa. Amb ells la temporada passada vam guanyar amb rotunditat tots els partits i assolint uns resultats històrics (només vam cedir un empat a la lliga regular). Crec que han professionalitzat molt l'entitat. A més, són obsessos del futbol sala, de la competició. Per ventura gent de la casa no tenia aquesta mentalitat: si podem entrar dos dies millor que no fer-ne tres. I els de Manacor entrenarien cada dia. Reiter, perquè és molt important, que ens han situat en el mapa balear com un dels equips punters. Som el segon millor equip de Balears, i ho dic tranquil·lament, després del Palma Futsal, malgrat que a la classificació anem quarts. Som millors que qualsevol equip de tercera. I a primera i segona no hi juga cap equip de les Illes… per això dic que som el segon millor equip de Balears.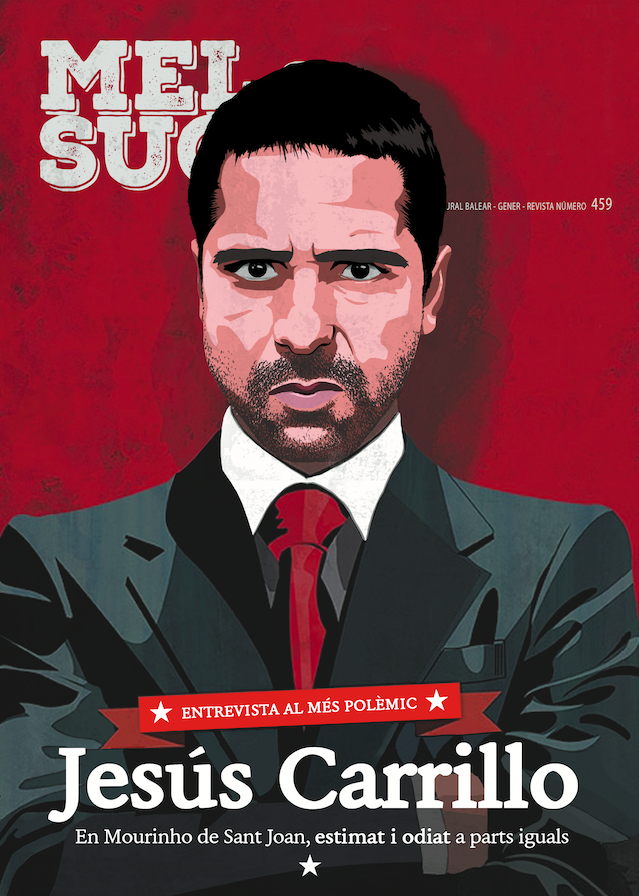 Alguns jugadors m'han comentat que els manacorins s'han adaptat molt bé i pareixen santjoaners de tota la vida!
S'han adaptat molt bé, cosa que és molt important. L'afició es pot identificar tant amb gent de la casa, en Joan Mora o en Julià, com amb en Toni Rosselló o en Mika. L'aportació en aquest sentit és extraordinària. Pensa que me van criticar perquè deien que faríem el mateix que el Just-Just: anar a cercar jugadors de fora per jugar a tercera. Val, sí, t'ho compr. Però també te dic que els jugadors que va tenir el Just-Just mai no van anar a comprar el pa o a fer un gintònic a un bar de Sant Joan. En canvi, els manacorins estan completament adaptats i fan vida social al poble com qualsevol altre jugador. Els manacorins s'estimen el Sant Joan tant o més que el Fisiomedia Manacor. Fins i tot te diré que els manacorins, per desgràcia, han estat més implicats amb el Sant Joan que molts jugadors santjoaners.
"Els manacorins s'estimen el Sant Joan tant o més que el Fisiomedia Manacor".
T'has rodejat del nou Miquel Alzamora, en Toni Bauzà "Mara". Quina ha estat la seva aportació?
La seva aportació en molt d'aspectes suma molt. Primer de tot, i això és molt important, és que me calma molt. El que valor d'ell és la seva honestedat: és molt directe, com jo. És un tipus honest, no fa la pilota, mai te donarà una ditada de mel, a no ser que t'ho mereixis. A més aporta molt a nivell tàctic, m'allibera a mi d'aquesta tasca, propiciant que me pugui dedicar a altres tasques. Està duent els juvenils i els de regional amb un èxit rotund, malgrat que la classificació no digui el mateix. Està gestionant un vestidor difícil, amb gent que mai ha jugat a futbol sala. Està aportant moltíssim, no només a mi, sinó també a nivell de club. Aquesta nova etapa no tendria el sentit sense ell, perquè me quedaria només amb en Pedrito. Seria impossible entrenar totes les categories del club sense ell.
"El que valor d'ell és la seva honestedat: és molt directe, com jo. És un tipus honest, no fa la pilota, mai te donarà una ditada de mel, a no ser que t'ho mereixis".
Ets l'entrenador del Just Just Sant Joan, perdona, volia dir de l'Sporting Sant Joan. Quin embolic. Explica'm el canvi de noms.
Intentaré ser el més breu possible. T'he de contar la història inicial?
Conta, conta…
Primer se va fundar el Just Just Sant Joan, devers el 2005. I els joves del poble se troben que no poden jugar perquè, en lloc de ser un equip del poble, és una empresa privada en què no tothom que estigui interessat en jugar-hi ho pot fer. Aquest tap fa que uns joves fundem, millor dit "malfundem", el CE Sant Joan  l'any 2007, per així poder jugar. La fricció entre ambdós clubs va començar per la gestió de les categories inferiors. Els primers que cream categories inferiors, abans que ells creessin l'escoleta de futbol sala, som nosaltres. A partir d'aquí s'engega una lluita de poders molt forta.
Quan és que els dos club es fusionen?
Anàvem per davant el Just Just en molts d'aspectes. No obstant això, en aquells moments, el Just Just està gestionat per 15 persones, mentre que el CE Sant Joan només pivotava entorn de dues persones: en Joan Rigo i jo. Malauradament, en Joan pateix un fort accident amb el motocultor i jo emprenc una nova aventura empresarial a Porreres. Això precipita el nostre pas al costat. Els joves, que encara no eren prou madurs, es van acostar al Just Just, equip que suposadament feia bé les coses. Hi ha moltes reunions per parlar de fer una fusió, però ens teixeixen una teranyina per absorbir-nos. Jo he anat a moltes reunions per intentar ajuntar els clubs, però va ser impossible. Arran de tot el que t'he estat contant, el Just-Just Sant Joan no reflectia dos clubs, sinó un de sol.
"Realment no és una fusió, sinó una absorció, (…) arran de tot el que t'he estat contant, el Just-Just Sant Joan no reflectia dos clubs, sinó un de sol".
La primera temporada que no hi ha el Sant Joan CE, jo no entrén ni m'interessa, però la segona temporada ho intent i me veten. Un equip que jo havia entrenat i mai no havia baixat de la quarta plaça ―amb exactament la mateixa plantilla― fan penúltims. Els jugadors me cerquen i el Just Just bloqueja la meva arribada. Així com avançava la copa, l'equip no alçava el cap i demanaven a crits que hi anés. Perdien tots els partits. A falta de dues setmanes per acabar la copa, els jugadors s'amotinen contra la directiva del Just Just i diuen que no comencen la lliga, si no vaig a entrenar-los. En Nino (el president) diu que sí, que mai no havia tengut problemes amb mi, però que no me pagaria un duro.
"La primera temporada que no hi ha el Sant Joan CE, jo no entrén ni m'interessa, però la segona temporada ho intent i me veten".
A una reunió que tenc amb ell me diu que sí, que puc fitxar, però que certes actituds no me seran tolerades. M'obliguen a comprometre'm a mostrar un determinat comportament. No accedesc a complir aquesta condició, perquè quan me deix dur, me deix dur, però vaja, deix caure que procuraria comportar-me de la millor manera possible.
Comença la temporada i jo m'incorpor tard a l'staff tècnic. Com ja t'he comentat perdem el primer partit de lliga a Alaró i quedam subcampions. Aquest any és un desastre: no podem canviar partits, la directiva ens abandona a la nostra sort, els altres entrenadors no cobren (jo no cobrava des de l'inici).
Jo i el president Nino Company feim un pacte per començar de zero. Jo me compromet a donar força a les categories inferiors, però tanmateix no hi ha feedback. Continua el mal rotllo i ell no vol amollar. Pel gener, els jugadors li diuen que l'any que ve volen jugar a tercera, però que amb ell no. Ell diu que cap problema, que els hi donarà la plaça i el club. A mesura que van passant els mesos i s'inicia la temporada actual, ell es va despenjant i, quan no queda temps per maniobrar, el mes de juny els diu que no cedirà les regnes del club ni la plaça ni res. Si volen jugar amb ell, idò que juguin amb ell, però que si no, mos cerquem la vida. És per això que fundam a la desesperada l'Sporting Sant Joan.
Com valores el mandat d'en Nino Company durant aquests anys?
Ha estat un mandat llarg. Als inicis del Just Just van fer les coses ben fetes. Si l'any 2005 no haguessin fundat el club, en Nino o en Maranxó, o qui fos, perquè era un grup molt ampli, molt probablement no s'hagués fundat el Sant Joan CE. Dur el futbol sala a Sant Joan va ser positiu. No me vull ficar dins cap jardí, perquè he estat amenaçat amb denúncies, però una gestió basada en l'ocultisme mai no pot funcionar.
I el més negatiu és que quan el Just Just va estar a tercera es va invertir molt de capital, però quan vaig arribar jo se'm van tallar totes les possibilitats: els jugadors del Just Just no pagaven fitxa; en canvi, els nostres sí. Crec que es va anar cremant, del grup inicial que eren (uns 15), al final només quedava en Nino i en Joan "Beina". Ha estat a moltes associacions del poble i amb totes ha acabat igual: malament. En canvi, si miram un poc la meva trajectòria, veuràs que sempre he estat criticat com a entrenador i pels meus mètodes ―soc el Mourinho del futsal! (riu)― però la meva trajectòria ha estat excelsa. Per acabar te diré dues frases fetes en castellà: "por sus hechos los conocerás" i "cría cuervos y te sacarán los ojos". Per on ha passat mai no ha crescut l'herba.
Joan Rigo, qui va ser la mà dreta de Jesús Carrillo durant molts anys al Sant Joan C.E., alçant la Copa guanyada l'any 2009.
És bona la relació amb l'Ajuntament. Creus us recolzen econòmicament així com cal?
Sincerament crec que és la millor relació que hi ha hagut mai. El recolzament cap al club és indubtable, més que amb qualsevol altre ajuntament. Estem al millor moment, existim més que mai. He coincidit amb en Ditaler, na Maria Teresa, en Magro, na Catalina, en Pablo i, ara, amb en Batxà. Consider que l'actual batle és el que aposta més per nosaltres, però així i tot crec que és insuficient. Si miram Sineu o Porreres, veurem com la vida esportiva, cultural i social és molt potent. Avui, a l'auditori de Porreres, en Joan Miquel Oliver presenta el disc Elektra. A Sant Joan no hi ha moltes coses. Ara no tenim ni els Biaixos i Capgirons, possiblement el moviment cultural més potent els darrers anys. L'únic que és capaç d'estirar 20 persones és un variat a Can Tronca. Si en vols fer sortir 40 de ca seva, doncs fes un tardeo a un bar. L'únic que en pot estirar 300, a Sant Joan, és un partit del CE. A partir d'aquí, dir-te que la inversió hauria de ser més gran, un 500, 600 o 700% més elevada.
"La inversió hauria de ser més gran, un 500, 600 o 700% més elevada".
Com és que vos van donar a vosaltres el bar de la Festa del Botifarró?
No és gens polèmica. No ens el donen a nosaltres. Sempre hem fet poble, hem duit el nom de Sant Joan arreu de Mallorca. No ho sé molt, perquè som "es foraster", en Carrillo de Palma, però crec que la va fundar sa Penya Motorista. En els darrers anys no l'ha volguda dur i l'Ajuntament ha tengut un bon "marrón" per trobar qualcú que la volgués organitzar. Mos demanen si la volem dur. Deim que sí amb la conditio sine qua non que mos donin la berbena de l'any següent i, l'altra, dur-la dos anys perquè mos veim amb coratge de fer-ho bé i donar-li una nova embranzida. Crec que la gestió ha estat fantàstica, un èxit sense precedents.
Vos ha sortit a compte organitzar la Festa, amb tot el que suposa a nivell logístic i de mobilització de recursos humans?
Sí, econòmicament parlant ens ha sortit molt a compte. Recorda que la inversió econòmica de l'Ajuntament no és ni una desena part del que tocaria. Al poble, que nosaltres l'haguem duta, també li ha sortit bé, malgrat que el mal temps esguerrés el que hagués estat un diumenge magnífic. Ha guanyat Sant Joan.
Has estat jugador insigne dins les files del CE, mític tanca, i ara ets entrenador. Series el Talant Duixebàev del futbol sala! Com recordes l'època de jugador?
A la meva època de jugador la record amb emoció i estimació. Ha estat una de les millors èpoques que he viscut. Sempre vaig tenir minuts amb tots els entrenadors. El gran moment és quan arriba en Betlem, també pel club. Me va suggerir que si volia sortir de l'equip, ho podia  fer, perquè amb ell no jugaria. Era l'època d'en Guardiola i el tiki-taka estava de moda. Jo era un destraler, tàcticament era un bon jugador, però tècnicament no. Jo li vaig dir: "En començar la lliga, seré titular". Efectivament: vaig jugar tots els partits de lliga i tots els minuts. Crec que vaig aportar molt al club. Un any vam anar a jugar un dijous a les 10 del vespre a Sóller. Érem justos, és a dir, 5 jugadors: en León, en Ramis, en Juli, en Garí i jo. He estat allà a las duras y a las maduras. Crec que he sumat. Tenim una copa i jo hi era. He estat el millor jugador? És clar que no.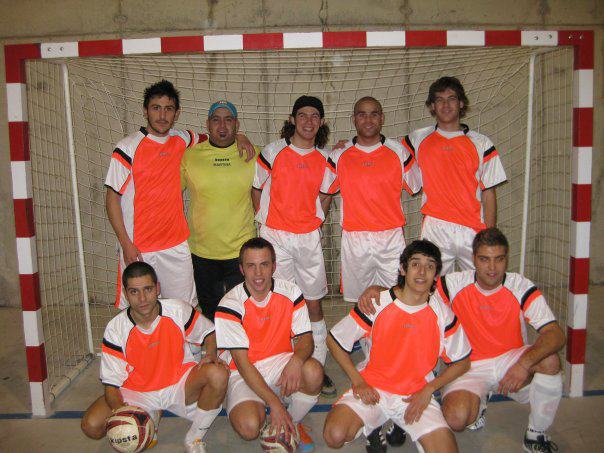 L'únic supervivent dels inicis del CE és en Julià Picornell. Què aporta a l'equip?
Sí, és ell com a jugador de camp i jo. No en quedam més. Juga manco minuts dels que mos agradaria a tots, a mi especialment. M'encantaria que jugués els 40 minuts del partit. Per jo, ell és innegociable. El clan manacorí el va calar tot d'una que va arribar. Aporta molt al vestuari, a cada entrenament, a cada sortida. Tenir-lo dins el vestidor me facilita les coses d'una manera bestial. És el veterà i la gent ho té clar. Els jugadors el respecten.
Quin ha estat l'entrenador que més t'ha marcat?
Sense cap tipus de dubte, en Betlem.
Quines qualitats tenia?
Que demanés si me volia donar de baixa del club, perquè no jugaria ni un sol minut. Sempre li agrairé que me parlés amb franquesa. Mos vàrem aportar molt l'un a l'altre. Me va marcar molt, a mi. Que deixés de ser l'entrenador del CE (entrenava els juvenils i els sèniors) me va obrir les portes. De fet, abans de començar la temporada els juvenils no volien que els entrenés juntament amb en Lepe i al final els va entrenar en Betlem. Després se varen haver de menjar amb patates que fos el seu entrenador! Sense ell, jo no estaria entrenant. Feia molt bé la seva feina, molt més del que es pensa. M'encantaria que estàs a l'staff tècnic. L'any que ve tornaré a insistir-hi.
Per què vas decidir deixar de ser jugador de futbol? Tant fet pols estaves?
Era un toro físicament parlant. Me vaig retirar amb 25 anys. En el terreny físic, era el jugador més superdotat que hi hagut en els darrers anys a Mallorca. Vam fer la Course-Navette i me vaig acabar la cinta. Era un obsés de l'esport, cada dia feia 13 kilòmetres a peu, bicicleta, abdominals… fins que el meu cos va dir basta. Pensa que duia mala vida nocturna, pasturava molt, bevia, fumava, etc. Vaig tenir una pubàlgia que me va frenar en sec. Abans d'apartar-me dels terrenys de joc, els dilluns entrenava, els dimecres descansava i els divendres anava als partits. A un partit a Portocolom, la cuixa me va fer un pet. Després de cinc anys encara tenc molèsties, de fet, una tendinitis d'abductors crònica. Per sort, aquesta pubàlgia ha estat el millor que li ha passat al Sant Joan CE.
I per què et vas fer entrenador? Quines són les aptituds d'un bon entrenador? Com et vas adonar que les tenies, quan feies de jugadors, després de ser-ho?
He tengut vocació des de molt petit. Tenc un quadernet de metodologia de com ser jugador de futbol, que vaig llegir quan tenia manco de 10 anys. Arran de la dimissió d'en Betlem, a mitjan temporada, els juvenils anaven penúltims, moment en què vaig entrar en acció com a entrenador i tot va venir rodat. Vam anar a la Puríssima, el darrer partit de la primera volta, i vam guanyar. En el segon partit que jo entrenava, vam anar a s'Hort d'en Guixa. A la primera volta havien perdut 0 a 12 i pareixia que me'ls enduia a un escorxador. Des de llavors, els jugadors van confiar cegament amb jo. Crec que vaig tenir molta sort amb ells, ja que els inicis foren fàcils i me vaig guanyar els jugadors des del primer moment.
Vares ser un gurú per a ells?
Sí, crec que sí. I ells per jo van ser la meva possibilitat de ser on soc.
Juvenils temporada 2011-2012 (Segon any d'entrenador de Jesús Carrillo).

Juvenils temporada 2012-2013.
Quines són les qualitat d'un bon entrenador?
Te responc amb un tòpic: "Cada maestrillo tiene su librillo". Un bon entrenador ha de tenir uns bons coneixements tàctics, però per jo compten un 5%. La resta és gestió. Gestiones un grup humà, igual que un professor que gestiona una classe o un empresari de l'hostaleria gestiona un equip humà format per cambrers i cuiners. Un dels meus punts fort és la gestió de grup. No soc el millor entrenador, si parlam de tàctica. Ara bé, és un mite que no sigui un entrenador sense coneixements tàctics. Potser m'hagi eclipsat la "llegenda negra" que gira al meu voltant. No hi ha una fórmula màgica, han triomfat entrenadors de perfil molt diferent: en Guardiola i en Mourinho.
Som a l'era del coaching? Et consideres un coach? Sí. 
Quines consignes dones als jugadors abans dels partits? El que passa al vestuari queda al vestuari, però vaja, els dic que mai se demanin "I si…" Que ho donin tot! Al final és un joc, però que estiguin satisfets en acabar el partit. I que gaudeixin cada moment, perquè la temporada, tot i que pareixi que no, avança a un ritme bestial i amb un no res ja s'ha acabat.
Segueixes cap ritual abans del partit?
No. El problema que tenc és que som un obsés de la meva feina com a entrenador. Visc pel futbol sala. La meva dona telefona per saber el resultat. La meva relació sentimental se basa amb el resultats. Tres dies abans del partit, i tres dies després, el meu cos funciona diferent. Me surten canes, durant la temporada, tenc les pulsacions més altes, etc. Abans d'un partit pens en totes les possibilitats, en què fer si passa X cosa, per evitar haver d'improvisar. Faig totes les càbales.
Durant el partit pareixes el "Cholo" Simeone. Ets hiperactiu, per amunt, per avall… El futbol te serveix per llevar-te els nervis?
No, me serveix per incrementar-los. Si no me dediqués al futbol, estaria més tranquil.
No és contraproduent, idò, per a la teva salut?
Sí, no fa cap bé a la meva salut. No ho gaudesc, ho visc com una obsessió. Si guany un partit, no faig altra cosa que pensar amb el següent. Les derrotes me persegueixen durant molt de temps. La d'Eivissa d'enguany i, sobretot, la de l'Alaró me perseguirà cinc o sis anys, sense cap mena de dubte, quedem com quedem enguany. Les victòries, en canvi, me duren dos segons. Sempre estic pensant en el partit següent.
"Les victòries, en canvi, me duren dos segons. Sempre estic pensant en el partit següent".
Què va passar aquella temporada en què vas deixar d'entrenar els de regional? I enguany, m'han dit que els has tornat a deixar penjats? No tens feeling amb els adolescents?
Vaig obrir el negoci i vaig abandonar quan faltaven quatre jornades. El negoci me va passar per davant, me va menjar l'èxit. Però sí, vaig cometre un error: no hauria d'haver abandonat a falta de quatre jornades.
Amb els adolescents tenc feeling i l'etapa de juvenil m'agrada molt; de fet, la meva etapa de juvenils va ser la millor. El que ha passat és que els al·lots de cada vegada són més de mel i sucre. Ara no van de guerra. A en Turri Jr., en Jordà, en Simó, etc., els hi podia donar branca. Fumàvem! Avui en dia, els al·lots fan molta PlayStation. Quan entrenava els juvenils, fa uns vuit anys, sabien el que era una capsa de Marlboro o Lucky Strike. Ara, en canvi, saben què és el Fortnite.
L'any passat vaig abandonar els infantils. Mai més els tornaré a entrenar. No valc per això. Som una persona molt exigent i ho vull tot i més. Si veig que la plantilla no me pot donar el que jo exigesc, no hi puc estar. Enguany havia detectat que els juvenils no estaven preparats per donar-ho tot. Ara juguen perquè han de jugar, els al·lots. A en Toni Rosselló encara se li il·luminen els ulls a cada entrenament. Molts juvenils que comencen no tenen els ulls il·luminats. Vull que a ca seva estudiïn el que feim. Els dic que es dutxin i sopin en silenci, que no parlin amb els pares, perquè han de tornar a processar tot l'entrenament i demanar-se el per què de tot el que han fet, però el Fortnite és molt més atractiu.
"Quan entrenava els juvenils, fa uns vuit anys, sabien el que era una capsa de Marlboro o Lucky Strike. Ara, en canvi, saben què és el Fortnite. (….) A en Toni Rosselló encara se li il·luminen els ulls a cada entrenament. Molts juvenils que comencen no tenen els ulls il·luminats".
Quins objectius vos vau marcar a l'inici de la temporada? Els compliu?
Sí. En Toni se marcava estar entre els 7 primers. I els meus eren, i deixaran de ser-ho perquè matemàticament està quasi fet, no baixar. En baixen tres; era el primer objectiu. Guanyant el partit contra el Sineu i el que tenim aplaçat contra el Sant Carles, entram a copa. L'objectiu d'ara és acabar la primera volta entre els quatre primers.
Com valores l'inici de temporada? Anau cinquens amb un partit manco. Si el guanyau, vos posau segons!
Ens posaríem tercers, empatats amb els segons, però per goal average ens situaríem tercers a quatre punts del líder. Ara que els jugadors no me senten, n'esperava més d'ells. Com et deia, sóc molt exigent i res no me satisfà.
Vau començar guanyant tres partits seguits, després sembla que vos vau desinflar una mica. Què va passar?
A Eivissa perdem perquè no vam fer un bon partit. També és ver que amb un bon arbitratge l'haguéssim guanyat. A Alaró vam fer un partit desastrós, que va marcar un abans i un després. La lliga la guanya el millor, però has de tenir sort. Empatàrem contra el Calvià i el Muro en els darrers minuts (a Muro faltant 16 segons). Crec que mos mereixíem guanyar, que som millors que els contraris. Som el millor equip de la lliga, malgrat que la classificació no ho reflecteixi. Les lesions mos han fet molt de mal: Toni Blanquer, dos mesos; Mica, dos mesos; Llorenç Brunet, quatre mesos; Mbappé, un mes i mig. No hem tengut sort. Però com deia en Phil Jackson, com més entren i millor entren, més sort tenc. Alguna cosa hem fet malament perquè la sort no estigui amb nosaltres. La pilota no entra.
Heu tornat a entrar dins un cercle virtuós: tres victòries seguides, després de guanyar un partit dels darrers 5. Com t'ho expliques? De què depèn el rendiment de l'equip?
Les lesions t'han de respectar, no perdis de vista que això és un joc. Excepte a Alaró, que va ser un partit desastrós (vam tenir 4 minuts ferests en els quals mos van marcar 7 gols), en el 98% de la temporada hem estat millors que el contrari: hem fet millor futbol sala, hem controlat millor els partits, etc.; però és un joc: entra o no entra. Econòmicament, si no hi hagués el Polígon de Levante, que és coer, som l'equip amb pitjor pressupost de la categoria. El Gasifred té un pressupost de 80.000 o 90.000 euros, el Calvià té el Palma Futsal al darrere, el Muro té una empresa privada, el Sineu està pagant a jugadors (fins i tot ha fitxat un jugador italià). Així i tot tenim la millor plantilla de totes. Per què? Doncs perquè oferim altres coses. Si tot anés com ha d'anar, els guanyaríem tots. Però això no són matemàtiques.
"En el 98% de la temporada hem estat millors que el contrari: hem fet millor futbol sala, hem controlat millor els partits".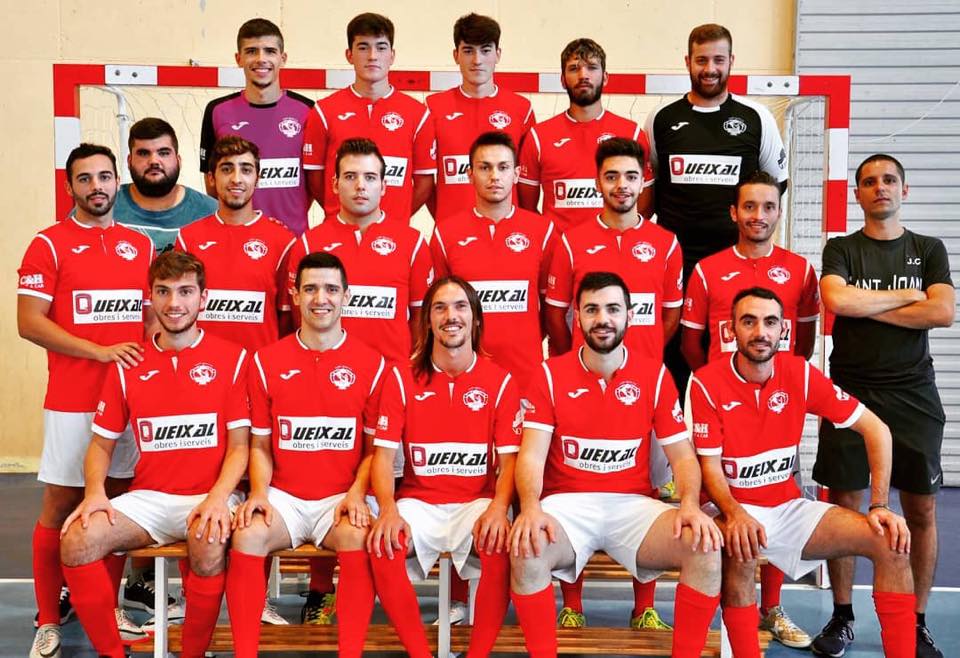 Quins reptes us heu marcat per aquest 2019?
Miram a curt termini, partit a partit. Tenim dues lesions de llarga duració, però en podem tenir a qualsevol entrenament. I què fas? La plantilla està molt minvada. Repte? Cap ni un. Anar fent. La lliga no engana: si fas quart és perquè has fet quart, no és com a la copa que pots tenir un mal dia i quedar eliminat. En acabar la primera volta farem comptes i anirem a per totes. Els altres equips tenen doblers i es reforçaran. Veurem fins a on podem arribar.
I els de regional, acabaran d'arrancar? Van quarts dels darrers… Només han sumat una victòria a les 7 jornades disputades.
Han dut el pes del partit a quasi tots els partits. Els joves encara no saben gestionar el timing així com ho fan els veterans. Estan en una fase d'aprenentatge… De totes maneres, si fan campions no poden pujar a tercera perquè ja hi tenim el primer equip. Han de ser útils pels de tercera, aquest és la seva tasca.
I els juvenils, com van?
Van fent feineta. Tenen un equip que és dels millors de la seva lliga, però no tenen la fam que han de tenir. Faran de mitja taula per amunt, seguríssim. El límit se'l posen ells. El Fortnite és el Fortnite!
Quin serà el proper projecte musical que liderarà en Jesús Carrillo?
Tenc dona, un negoci a Porreres, una empresa de vins que he tancat aquest passat dia 31 (m'he fet sommelier), el futbol sala me menja molt de temps… Vaig posar-ho damunt una balança i he hagut de sacrificar la música. Tot el que t'he comentat va per davant de la música. L'estrès me menja, un dia hauré de deixar la pista, però hi tornaré!
"L'estrès me menja, un dia hauré de deixar la pista, però hi tornaré!"
Jesús Carrillo ha estat el frontman de diverses bandes musicals del panorama mallorquí: Desk'n'sados, Súmmum, Nada que Objetar, Yoyo Banana.
Vols dir que serà el punt i final de la carrera d'en Jesús Carrillo? Ha vengut un grup berbener, bastant consolidat, el qual fa 40 concerts cada any, i m'oferia 600 euros per concert. Els hi he dit que no. La música no m'ha agradat mai. L'odiï. M'agrada l'espectacle que l'envolta: els concerts, l'escenografia, el show… la performance. Jo no he estat mai músic, jo era un artista. Això sí, enyor la família, tenir un grup per assajar i tal, però la música no m'agrada. Ara mateix m'ho planteig com un punt i final.
Entrevista realitzada per Antoni Miquel Bauçà Company.